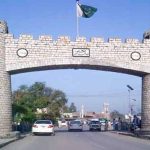 ISLAMABAD: The former prime minister Nawaz Sharif has trained his guns at Pakistan Tehreek-e-Insaf (PTI) Chairman Imran Khan and mocked his political opponent in every way he could.
Talking to media, he said that the people of Lahore on Tuesday rejected Imran Khan for a third time adding that the PTI Chief lost his own wicket in the capital of Punjab.
He added that Imran Khan had to run away from Lahore while making a lame excuse of taking a big wicket.
Nawaz Sharif was referring to news reports that Imran Khan cancelled his visit to Lahore for he was going to take a big wicket (usually refers to incorporation of an important political personality in party).
The former prime minister maintained that the people had rejected Imran Khan in general elections 2013 and that the PTI Chief would share the same fate in the coming elections.
The ex-premier said that Imran Khan was maligning politics in the country by following "order from top" and added that everyone knew what did "order from top" mean.
He said that these people (PTI) were the claimants of bringing change in the country; however, the nation has come to know about slogans of change.
Meanwhile, a journalist asked Nawaz Sharif about appeasing the disgruntled leader of his party and former interior minister Chaudry Nisar Ali Khan.
Nawaz Sharif; however, remained silent over the question.