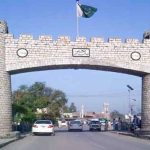 LAHORE: Pakistan Peoples Party (PPP) Chairman Bilawal Bhutto Zardari on Monday said that despite political victimization the former prime minister Nawaz Sharif firmly stand by his political ideology adding that he got no impression that deal made for Nawaz's departure.
Speaking to the media after meeting former premier Nawaz Sharif at Kot Lakhpat jail, Bilawal rejected speculations about discussing political alliance with Nawaz Sharif and stated that there was no political objective behind the meeting with the former prime minister.
Bilawal said that despite of being sick, Nawaz Sharif did not seem to make any compromise. "Zulfiqar Ali Bhutto and Asif Ali Zardari had also served jail time in this jail," he added. Got no impression that deal made for Nawaz's departure, says Bilawal after meeting ex-PM
Bilawal called Finance Minister Asad Umar "a parha likha jahil" for criticising his speech in English on the floor of the National Assembly. "The 'parha likha jahil' Asad Umar criticised me for speaking in English. Did Umar speak in English or Urdu in the company that he used to work for?"
"Umar also gave a speech in English," the PPP chairman added.
"PM Imran through a notification slashed his father's name, someone should tell Umar that I write Zardari in my name along with Bhutto. Umar should not indulge in politics of hypocrisy," the PPP chairman asserted.
Last week, Bilawal had tweeted that the federal cabinet is not on the same page as Umar criticised his speech while Foreign Minister Shah Mehmood Qureshi agreed with him.
"Finance minister called my speech 'mulk dushman' even though foreign minister agreed with everything I said," Bilawal tweeted. "So the cabinet is clearly not on the same page. He took issue with my English, even though FM spoke in English. General Umar's offspring are in no position to lecture ghairat (integrity)," he added.