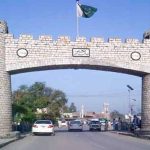 KARACHI: Pakistan People's Party co-chairman Asif Ali Zardari said on Saturday that his party tried to save former prime minister Nawaz Sharif time and again, 'but he stabbed them in the back'.
The former president was speaking after a meeting with PPP leader Amir Hasan.
Zardari said that in the past for the sake of saving democracy he tried to reach an understanding with the PML-N leader. "But Nawaz never mend his ways," said the PPP co-chairman.
The former president alleged that Nawaz Sharif does politics which only benefits him.
Zardari said that he will continue doing politics going beyond personal benefits and political gains.
On Wednesday, while addressing a rally in Garhi Khuda Buksh on the 39th death anniversary of party founder and former prime minister Zulfikar Ali Bhutto, Zardari said that his party will remain at war with political rival and ruling party PML-N.
"No matter what happens, we will remain at war with [PML-N] because you are not democratic, you [Nawaz] are like a Mughal emperor," said the former president.
Zardari also warned that his party would take the Punjab government 'away' from Pakistan Muslim League – Nawaz (PML-N). He warned that just like the recently held elections for Senate chairmanship, he would not let the ruling party win the upcoming general elections in Punjab — a voting stronghold of PML-N.