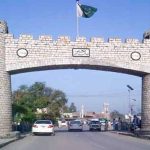 JEDDAH: Ex-prime minister and Pakistan Muslim League-Nawaz (PML-N) supremo Nawaz Sharif has reached Saudi Arabia from London to perform Umrah on Wednesday.
Nawaz Sharif and his family members are special guests of Saudi Royal family. Maryam Nawaz, her brothers, daughters Captain (retired) Safdar Awan, Junaid Safdar and other family members have already reached Saudi Arabia.
Upon arrival at the Jeddah airport, Nawaz Sharif was welcomed by Hassan Nawaz, Maryam Nawaz, Junaid Safdar and other family members.
Nawaz Sharif along with his family members will perform Umrah.
Sharifs are expected to spend the last 10 days of Ramazan in Makkah and Medina and celebrate Eidul Fitr in Saudi Arabia.
Last year, it emerged that the doctors advised the Pakistan Muslim League-Nawaz against Umrah pilgrimage to the Kingdom of Saudi Arabia (KSA).
The London doctors of the former prime minister advised him not to visit the holy land owing to his health condition, sources said.
The former PM was intending to perform Umrah and pass the last 10 days of Ramadan in Madina, according to sources.