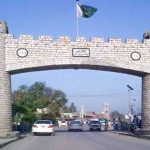 LAHORE: Senior Leader of the Pakistan Peoples Party (PPP) Aitzaz Ahsan on Sunday accused the former prime minister Nawaz Sharif of bringing Pakistan to a critical juncture.
"He has ridiculed the country's legal system by not abiding by the National Accountability Bureau's laws," Ahsan lashed out at the Pakistan Muslim League – Nawaz (PML-N) president.
He said that the former president Pervez Musharraf and former prime minister and PPP leader Yousuf Raza Gillani had set a better precedent by obtaining bail.
"Nawaz is responsible for bringing Pakistan to the critical juncture that it stands on today."
The PPP leader blamed the NAB for neither arresting Nawaz nor adding his name to the ECL.
"Nawaz was disqualified due to holding a valid Iqama — which is a document issued to employees of a foreign company," he said. "He could not be the prime minister of Pakistan and employed by a foreign company simultaneously."
Ahsan went on to claim that the Interior Minister Ahsan Iqbal and Finance Minister Ishaq Dar also hold work permits of a foreign country.
He alleged that Pakistan's decision are being made in London, referring to recent PML-N meetings in England's capital including a huddle attended by senior leadership of the ruling party.