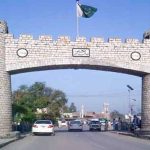 MANSEHRA: Former prime minister Nawaz Sharif has that said his call to respect the vote in fact demands respect for the people of the country.
Addressing a public rally here today, he said the country does not belong to a few people rather it belongs to 220 million people.
Criticizing his political rival Pakistan Tehreek-e-Insaf (PTI) Chairman Imran Khan for his claims of Naya Pakistan (New Pakistan), Nawaz Sharif said New Pakistan is only visible in Punjab as Khyber Pakhtunkhwa.
He maintained that Khyber Pakhtunkhwa and Sindh provinces continue to present a picture of old Pakistan.
He also trained his guns at Pakistan People's Party (PPP) saying that pilgrims were looted in the tenure of PPP but no one dared ask them.
Nawaz Sharif claimed that his party would defeat PTI and PPP in the next general elections.
Regarding his disqualification by the Supreme Court in Panamagate scandal, Nawaz Sharif addressed participants of the rally that there is one way to change the decision, which is they vote PML-N to power in the coming elections.
Nawaz Sharif said all out efforts were being made to arrest him and send him behind the bars; he added, however, conspirators will face failure.
He also made several promises with the people of Mansehra for their development.