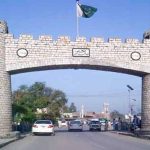 LAHORE: Former prime minister Nawaz Sharif has been transferred to Jinnah Hospital of Lahore on Friday owing to his illness.
The government of Punjab on Thursday issued a notification to shift Nawaz Sharif to Jinnah Hospital from Kot Lakhpat jail.
The provincial home department has announced to provide Sharif foolproof security at the hospital.
Jinnah Hospital administration has made preparations for Nawaz Sharif. The hospital rooms to be provided to the former prime minister will be declared as sub jail.
Prof. Arif Tajammul has said that Jinnah Hospital have facilities to provide treatment to any health problem. He said the hospital have cardiology facilities and good professors to attend a heart patient.
The decision to shift Sharif to hospital, has been taken over the recommendation of the medical board, according to sources.
Imprisoned former premier Sharif was shifted back to Kot Lakhpat jail on Thursday from Services Hospital in Lahore.
The Pakistan Muslim League Nawaz (PML-N) leader had refused to be shifted to Punjab Institute of Cardiology and insisted to be taken back to jail.
The former premier was shifted to Services Hospital on February 3 and underwent medical tests to ascertain his health condition. The official said the tests had detected a stone in Sharif's left kidney.
Sharif's personal physician Dr Adnan Khan had also demanded the treatment of his patient as per the recommendations of the medical board report.