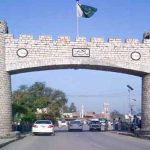 ISLAMABAD: The PML-N's Javed Latif during a news conference in Islamabad on Monday announced that former prime minister Nawaz Sharif will return to Pakistan in September to "represent the people."
He expressed concern about "granting the second term" to Imran Khan, and warned that "the same group which supported Ayub Khan, Yahya Khan, and Pervez Musharraf have followed this man [Imran Khan].
"You cannot say level playing field without Nawaz Sharif. It is not conceivable to support one party while opposing another, Latif remarked, referring to the "authenticity" of previous court decisions. He alluded to earlier rulings in the cases of Sharif and the late prime minister Zulfiqar Ali Bhutto.
Latif, who is a federal minister, also stated that his party was prepared to meet any obstacle. "We have dealt with this before, and we will do it again."
The Supreme Court disqualified on July 28, 2017 the then Prime Minister Nawaz Sharif from holding public office in a decision on the Panama Papers case. Justice Ejaz Afzal Khan, who had headed the apex court's implementation bench following its April 20 order on the Panama Papers case, announced that the larger bench had unanimously deemed Sharif unfit for holding office and would also order an accountability court to open references against him and his family, and other respondents.
Then Sharif was removed as PML-N head after a three-member Supreme Court bench led by the then by Chief Justice of Pakistan Mian Saqib Nisar said that an individual disqualified under Articles 62 and 63 of the Constitution cannot serve as head of a political party.
The verdict was in reply to as many as 17 petitions challenging the Elections Act 2017, which had been bulldozed through Parliament last year to pave the way for Sharif's return to the PML-N's helm as party president.
"After 20 years, it was admitted that it was a judicial murder," he said on Bhutto's death during former military dictator Ziaul Haq's tenure. "We only demand that the voice of Justice Shaukat Siddiqui should be heard," he said while commenting on the prevailing court judgements.
He demanded that the "letter" of Justice Qazi Faez Isa should be made public. "We request the judiciary to do justice without getting under any pressure," he said and expressed hope that they would get justice and lessons would be learned from the past.
The PML-N leader stressed the need for "giving" an equal level playing field to every political party for the country's progress.
Latif replying to another query lamented the alleged election rigging to purportedly stop his party supremo from holding the coveted office. He asked whether the prevailing economic situation could afford such political developments.
"Doctors change their opinions at different times and the then doctor did not consider it appropriate for Sharif to return home in view of Pakistan's weather and condition," he said when a reporter asked who allowed the former premier this time to come home.
"They are Pakistan people doctor," he replied to a reporter who asked about the nationality of the physician. "They have said now it's enough. Please return."
The PML-N called for introspection while answering a question on the government's decision to cancel the no-objection certificate of ARY News.
The government does not fear prisons, he said, asking that would Sharif would be going to jail for the first time. "We will not let him go to jail. We will give him a rousing welcome."
He claimed that the party was not fairly treated while commenting on a former jurist Nisar's decision.
Latif added that all political and state institutions should work as per the law and Constitution and apparently refrain from approaching bodies for extension in power.