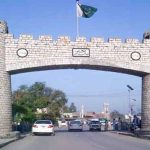 ISLAMABAD: Former prime minister Nawaz Sharif has voiced concern over upcoming elections.
Talking to the media on Monday, Nawaz said that Punjab government was being criticised over performance. He added that the masses knew well about the performance of the Punjab government.
The former premier said that the chief justice of Pakistan, Imran Khan and Asif Ali Zardari "were singing the same tone".
The remarks came a day after the Supreme Court summoned the National Accountability Bureau's prosecutor general on April 14 to look into the hiring of individuals from the private sector as well as foreign experts in the Punjab Saaf Company.
Earlier, he said that the "court verdict in the high-profile Panama Papers case had caused a dent to the pace of progress in Pakistan". He said that depreciation in the value of rupee was due to uncertainty in the country.
Replying to a question, he said that he would consult with lawyers on the proposal of live broadcast of accountability court proceedings.
Last week, Maryam Nawaz had demanded live broadcast of the court proceedings.