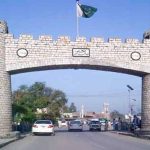 LAHORE: Prime Minister Nawaz Sharif's granddaughter Mehr-un-Nisa Safdar has on Saturday been wedded to Raheel Munir. Walima ceremony will also be held today in Lahore.
The daughter of Captain (r) Muhammad Safdar and Maryam Nawaz Sharif was wedded in a prestigious ceremony. Raheel Munir was accompanied by close friends and family members. PM Nawaz Sharif, Punjab Chief Minister (CM) Shahbaz Sharif, Captain Safdar, Maryam Nawaz and other relatives received the Baraat. Around 150 people attended the ceremony.
The hosts were wearing Pink turbans while the groom wore Off-White Shervani. The guests were served one dish in the ceremony. They were served Chicken Korma and Pulawo. Although the ceremony was held within the walls of the house yet it ended at 10 PM.
The Walima ceremony of Mehr-un-Nisa and Raheel Munir will also be held in Lahore in which close relatives and friend have been invited. Raheel Munir is the son of a famous Pakistani businessman Chaudhry Munir.