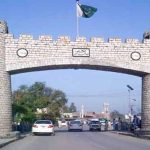 ISLAMABAD: Chief of Awami Muslim League (AML) Sheikh Rasheed on Thursday has claimed that Sharif family's assets have been formed by nation's property.
Talking to media in Islamabad, Sheikh Rasheed said that ex-prime minister (PM) Nawaz Sharif's wish to amend Article 62, 63 would never be fulfilled.
He further lashed out at Pakistan Peoples Party (PPP), saying that if Bilawal Bhutto will continue to follow his father Asif Ali Zardari then the party will never get succeeded.