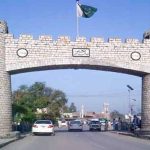 ISLAMABAD: Former Prime Minister Nawaz Sharif and his younger brother Shehbaz Sharif are expected to meet Saudi Crown Prince and other officials today.
Earlier, former Pakistani premier Nawaz Sharif arrived here in Saudi Arabia on Saturday night, confirming sources' that he would return to country on January 2, 2018, for his next court hearing.
Sharif — who also leads the Pakistan Muslim League-Nawaz (PML-N) — was welcomed at Riyadh airport by Khan Hasham bin Siddique, the country's ambassador to Saudi Arabia.
The ex-prime minister joined his brother, Punjab Chief Minister Shehbaz Sharif, and Minister for Railways Khawaja Saad Rafique — both of whom are already in the Kingdom.