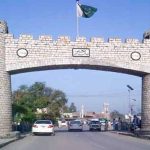 KOT MOMIN: Pakistan Muslim League-N (PML-N) leader Nawaz Sharif on Wednesday termed as rigging the decision of the Election Commission of Pakistan to not allow PML-N to contest the Senate elections from the party's platform.
Nawaz was addressing party supporters in Sargodha on a condolence visit to a party official. He said that those who do not respect the people's vote will not be respected in return. "This is unfair. This is what's being meted out to the largest political party in the country," he said, adding that he is not the one to back down.
The PML-N chief asked supporters to vow to stand with him in his fight for Pakistan. "They're trying to kick me out, but the people are bringing me back in," he said, adding that "this is a fight for Pakistan's survival, for your rights, and we will win this fight".
"After removing me as PM, they didn't stop there. They used that as a basis to remove me as PML-N president," said Nawaz, who was recently restrained by the Supreme Court from holding party office. "They don't care about the millions of voters," he remarked further.
Nawaz also stated that the petitioner, Imran Khan, himself said the verdict against him was weak. "Now tell me, what is the worth of this judgment," he added.
Nawaz also questioned whether the people's vote is respected in Pakistan. "I have taken the first step, now you have to walk with me," he said further while addressing the party supporters.
Earlier, he once again questioned the basis of his disqualification by the Supreme Court, saying prominent lawyers disagreed with the verdict.
Nawaz also termed Punjab Chief Minister Shehbaz Sharif and Prime Minister Shahid Khaqan Abbasi as brilliant partners.