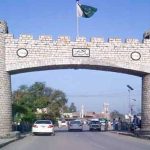 ISLAMABAD: Former prime minister and Pakistan Muslim League-Nawaz (PML-N) supremo Nawaz Sharif will appear before National Accountability Bureau (NAB) court today (Monday) in Al-Azizia Steel Mill and Flagship Investment references.
Superintendent Adiala Jail in his letter has asked Islamabad administration to provide foolproof security to Nawaz Sharif during his appearance in the NAB court. Authorities have banned entry of irrelevant persons in the Federal Judicial Complex during the hearing.
NAB court judge Arshad Malik will hear the case instead of Muhammad Bashir after Islamabad High Court (IHC) two-member bench approved Nawaz Sharif's plea for transferring Al-Azizia Steel Mill and Flagship Investment references to other court.
It would be suffice here to say that Nawaz Sharif has expressed grave reservations over accountability court's judge Mohammad Bashir.
In Avenfield reference, the supremo has been awarded 11-year jail sentence while his political heir-apparent Maryam Nawaz has been awarded seven-year jail sentence and son-in-law Capt (rtd) Safdar one-year.