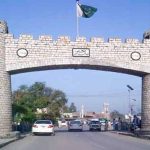 ISLAMABAD: Former prime minister and Pakistan Muslim League-Nawaz (PML-N) supremo Nawaz Sharif will appear before the Supreme Court (SC) today (Tuesday) in Pakpattan shrine's land transfer case.
The PML-N supremo decided to appear before the court after consultation with his legal team. The former prime minister will present his stance before the court in case pertaining to Pakpattan shrine's land transfer.
A three-member bench of the SC headed by Chief Justice of Pakistan (CJP) Mian Saqib Nisar on November 13 had summoned the former premier appear before it in person on December 4 regarding the case of the illegal construction of shops on the land of Pakpattan's shrine when he was the chief minister (CM) of Punjab in 1985.
As per details garnered, the country's top court has rejected the reply submit by Nawaz Sharif.
As the hearing went underway, Chief Justice of Pakistan (CJP) Justice Saqib Nisar—who has taken suo motu notice on the incident—inquired whether Nawaz Sharif had signed the summary. To this, lawyer replied that summary does not contain Nawaz's signature.
"If Nawaz Sharif had not signed the summary, then someone had committed forgery. Nawaz Sharif has remained premier of the country thrice. By denying, his legal counsel is destroying Sharif's political career", remarked CJP.
"The land of the Auqaf was de-notified and given to custodian of the shrine. Then, it had been sold to other people", remarked CJP.