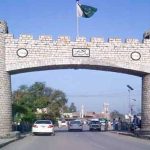 ISLAMABAD: Jamiat Ulema-e-Islam-Fazal (JUI-F) Chief Maulana Fazlur Rehman called on former prime minister and Pakistan Muslim League-Nawaz (PML-N) leader Nawaz Sharif here in Islamabad on Wednesday.
According to media reports, both the leaders discussed the recent defeat of PML-N in electing chairman and deputy chairman in the Senate.
The two leaders also exchanged views on the current political situation.
Meanwhile, some media outlets reported that Nawaz Sharif seemed to be unhappy with the JUI-F leader for his role in the Senate elections.
Channels reported that Nawaz Shrif expressed doubts over members of JUI-F for not voting PML-N candidates in the Senate elections.
The reports said that Nawaz Sharif informed the JUI-F leader about his reservation on JUI-F role in the elections.
The reports added that JUI-F Chief Fazal and Abdul Ghafoor Haideri kept explaining that they had supported PML-N candidates in the elections.
It has also been reported that three members of JUI-F did not vote PML-N's candidate in the elections.
The JUI-F leader assured the former premier that he would probe the matter himself.