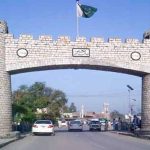 KARACHI: Chief of Pakistan Tehreek-e-Insaf (PTI) Imran Khan on Wednesday has asked Pakistan Muslim League-Nawaz (PML-N) and Pakistan Peoples Party (PPP) to oust Nawaz Sharif and Asif Ali Zardari.
Talking to media in Karachi, Imran Khan thanked Hyderabad people for warm welcome and their participation in the rally. He alleged that Sharif family involved in money laundering for 30 years, adding that corrupt representatives have to go home when umpire lifts his finger.
Khan continued that the country is going in debt day-by-day for which Nawaz Sharif and Zardari are responsible. The ex-premier has destroyed all the government institutions, he claimed.
PTI chief revealed that money is being sent abroad through launches from Sindh. He further termed PPP Chairman Bilawal Bhutto Zardari as prince.