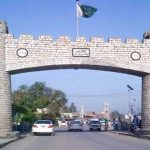 LAHORE: Ousted prime minister Nawaz Sharif on Sunday claimed the ongoing political crisis in Balochistan is a conspiracy to impede the upcoming elections of the Senate.
The former premier and Balochistan Chief Minister Sanaullah Zehri discussed the latest political developments in the province on the phone.
The chief minister telephoned the PML-N chief to enlist his help in tackling the crisis.
Sharif said some powerful elements were busy hatching conspiracies to prevent the upcoming elections of the upper house of parliament.
He billed the current political crisis in the province as a conspiracy against the democratic polity and said unfortunately, some of his political friends had a hand in the crisis.
The chief minister complained to the PML-N president that his aide Jamiat Ulema-i-Islam chief Maulana Fazlur Rehman was part of the conspiracy.
Sharif said he had asked Prime Minister Shahid Khaqan Abbasi to look into the matter and handle the crisis in Balochistan amicably.