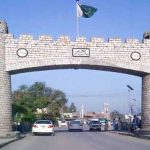 ISLAMABAD: The ousted prime minister Nawaz Sharif appeared in accountability court in a case pertaining to Al-Azizia reference filed against him by National Accountability Bureau (NAB).
Accountability court judge Mohammad Bashir resumed hearing of the reference after Nawaz Sharif reached the court.
Nawaz Sharif's lawyer Khawaja Haris will resume cross-examining NAB's witness and head of Joint Investigation Team – mandated to probe offshore properties of Sharif family – Wajid Zia who is also an additional director at the Federal Investigation Agency (FIA).
Meanwhile, Nawaz Sharif while talking to media outside the court has said that a person should stay happy in all situations.
He added that ups and downs are parts of life and one should never lose heart.