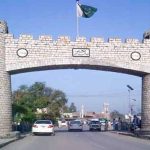 LAHORE: Former premier Nawaz Sharif's lawyer on Monday once again raised objection to the constitution of a larger bench of the Lahore High Court to hear petitions seeking contempt of court proceedings against the Sharif family.
The larger bench, headed by Justice Mazahir Ali Akbar Naqvi, began today hearing of the petitions seeking initiation of contempt cases against Sharif, his daughter and other PML-N leaders for criticizing the judiciary.
At the outset of hearing, Advocate AK Dogar, the former premier's lawyer, objected to inclusion of Justice Atir Mehmood on the bench, saying he had previously remained an office-bearer of the Pakistan Tehreek-i-Insaf (PTI).
Justice Naqvi said every citizen has right to support any political party and clarified that Justice Mehmood never held any office in the Imran Khan-led party.
The counsel insisted it appeared that the bench has already made up its mind about the outcome of the case.
Justice Naqvi censured the lawyer, saying the court has yet not summoned him for presenting his arguments. The thrice elected premier has been criticizing the courts more than anybody else, he observed.
The LHC judge affirmed that the bench will dispense justice and decide the case as per law.
The bench, meanwhile, directed the Pakistan Electronic Media Regulatory Authority (Pemra) to submit a report, explaining the measures it has taken to stop the airing of anti-judiciary speeches by Sharif and his daughter.
It also summoned record of their contemptuous remarks against the judiciary.
On April 04, Lahore High Court Chief Justice Yawar Ali constituted the three-judge bench, headed by Justice Mazahir Ali Akbar Naqvi and comprising Justice Shahid Jameel Khan and Justice Atir Mehmood, to hear the petitions.
Justice Shahid Jameel Khan declined to hear the matter citing personal reasons on April 06.
Earlier, the bench was dissolved after Justice Shahid Mobeen declined to proceed with the case, dissolving the bench for the second time.
Last week, the LHC Chief Justice formed the bench, headed by Justice Mazahir Ali Akbar Naqvi and comprising Justice Shahid Mobeen and Justice Aatir Mehmood, after Justice Shahid Bilal Hasan was transferred to the Multan bench.
The three-judge bench was formed to hear the petitions involving anti-judiciary speeches of the PML-N supreme leader and his daughter.
The petitioners submitted that Sharif and his daughter had been severely criticizing the judiciary in their public speeches.
They said the regulatory body had so far failed to take any action to stop the airing of the speeches despite high court orders in this regard.
The petitioners pleaded with the court to initiate contempt of court proceedings against Sharif and his daughter and restrain them from maligning the judiciary.