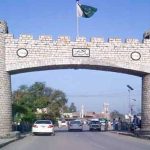 ISLAMABAD (Khyber News) – A key meeting of National Command and Operation Centre (NCOC) will be held in Islamabad today (Monday) to take important decisions to contain the spread of Coronavirus pandemic, Dunya News reported.
Given the surge in coronavirus cases and an above 8% positivity rate during the past few days, the meeting is expected to decide the implementation of smart lockdowns in more areas across the country.
According to sources, violations of the government's coronavirus standard operating procedures (SOPs) are being reported in most of the schools where examinations are being conducted. Keeping that in view, the coronavirus monitoring body will also review the closure of schools and the conduction of scheduled examinations.
The coronavirus monitoring body will also mull over to put the most virus-hit areas in the red zone in the federal capital city and other provinces. Pakistan is currently grappling with the third wave of coronavirus which is said to be more lethal and dangerous by the health authorities.
As of March 22, the total number of COVID-19 cases in the country rose to 630,471 with 3,669 new infections.
Throughout the country, 43,498 tests were conducted during the past 24 hours, while 20 people succumbed to the disease.