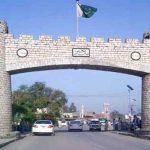 ISLAMABAD: Anti locust operation is continuing in sixty-one districts of the four provinces affected by the crop munching pests.
A spokesperson of the National Disaster Management Authority said a total of 1150 teams are taking part in the anti locust operation.
The spokesperson said an area of 1700 hectares was sprayed in Balochistan, 1000 hectares in Punjab, 900 hectares in Khyber Pakhtunkhwa, and 800 hectares in Sindh over the last twenty-four hours.