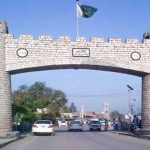 NEELUM: The death toll in the bridge collapse incident in Neelum valley has reached 12 while about 6 are still missing.
As many as 25 tourists tried to take clicks on a bridge, located over the Jagran Nullah in Kundal Shahi area when it collapsed.
The police officers said that the bridge had only capacity to withstand weight of up to 5 persons. However, tourists ignored the warning signs due to which the bridge broke.
Officials have stated that death toll may soar.
Meanwhile, operation is under way to rescue the tourists, with authorities having recovered seven bodies and rescued at least six people.