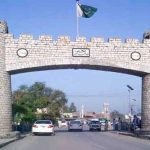 PESHAWAR: Famous Pashto stage actress Neelum Gul has been subjected to severe torture by her husband Murad here in the metropolitan city.
A video has surfaced on social media showing Neelum with bleeding nose and scars on her face while she is making appeals to high ups for help.
In her video message, Neelum Gul has accused her husband Murad of torturing her for the past five years.
"The police neither ready to lodge a First Information Report (FIR) against Murad nor they listen to my plights", she added.
Neelum further said that her husband has been lying idle and added, "He torture me on daily basis despite the fact that I am earning a living".