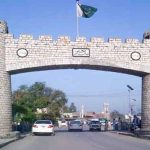 KABUL: The United States says in order to ensure Security in Afghanistan a negotiated political solution that include Pakistan needs to be found.
This was stated by the US Principal Deputy Assistant Secretary for South and Central Asian Affairs Alice Wells in an interview during a visit to Afghanistan.
She said ultimately the solution to Afghanistan's security and stability will lie in a political resolution not only on the military battlefield.
She said we see an opportunity for Pakistan to secure its legitimate interests through support for a negotiated settlement. The US official said we see the South Asia strategy as an opportunity for Pakistan.
Wells said Pakistan needs to be part of a wider solution for Afghanistan. She said as dialogue with Pakistan continues on the US's part, it is important to achieve results around peace that are mutually beneficial for both Pakistan and Afghanistan.
On the recent spate of attacks in Kabul, she said this was testimony to some elements within the Taliban who are not prepared to work for peace.
Wells said this vision for peace had the support of the international community, which is scheduled to meet later this month for the Kabul Process. She also said the US understands the courage it takes to continue to stand for peace.