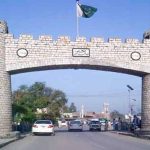 ISLAMABAD: Pakistan has reiterated call for a thorough and independent investigation into use of chemical weapons by Indian forces in occupied Kashmir.
The call was made by Foreign Office (FO) Spokesperson Dr Muhammad Faisal at his weekly news briefing in Islamabad on Thursday.
The spokesperson said the UN Commission of Inquiry may also look into the matter provided India is not shy of permitting its visit.
Dr Muhammad Faisal said that the Indian forces are committing heinous crimes in occupied Kashmir and the same was documented by the UN Human Rights Commission in its recent report.
Responding to a question, the spokesperson said that the US and allied forces should not withdraw from Afghanistan unless situation stabilizes in the country.
When asked that with such statements Pakistan may invite ire of the Taliban, the spokesperson clarified that these forces are staying in the war-torn country as per the mandate of the UN which is renewed every year. He said these forces are staying there for peace, stability and development of the country.
The spokesperson further stated that there is no military solution to the Afghan conflict. He said negotiated settlement is the most viable option. We are pleased that other important actors are also arriving at the same conclusion and exploring the possibilities of peace and reconciliation. He said Pakistan welcomes efforts for negotiated settlement and will extend all possible support in this regard.
When asked about Indian-Afghan cooperation for developing water reservoirs on Kabul River, the spokesperson said that Pakistan and Afghanistan remain engaged for optimal utilization of the available water resources. We believe that water resources must be used in a manner that benefit both the countries and is in line with international laws, norms and the best practices for water sharing.