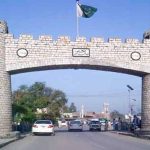 LAHORE: Former senator Nehal Hashmi on Wednesday alleged that the National Accountability Bureau (NAB) is promoting corruption in the country adding that the bureau is the most corrupt institution of the country.
Nehal Hashmi was talking to media after being released from Adiala jail in Lahore after one month of imprisonment. He alleged that victims of NAB are sitting in jail, people aged over 65 are in jail awaiting justice. If you raid the houses of the NAB officials, you would find half of the country's wealth stocked there."
Hashmi questioned the nature of his 'crime', "Who have I offended? Who was I disrespecting? When did I ever the name the courts?"
When asked if he was ashamed of the statements that landed him in the court, he said, "only crooks and those who lie are ashamed of what they say." He also advised institutions to stick to their own work descriptions: "People who are taking control in their hands, those who aren't working – please do your work, you will be accountable for it."
He further said that he lodged an appeal the day he was disqualified for five years from holding public office and sentenced to jail, but that no hearing was ever scheduled on his plea. "The month completed, but no hearing ever could. Is this how the country is running?" he questioned. "No man can stop me from working for democracy, and from working under the leadership of Nawaz Sharif," he said as the crowd around him chanted PML-N slogans. "I also want to thank the media," he added. Hashmi previously blamed the media for misconstruing his statements. Other PML-N leaders such as Daniyal Aziz and Talal Chaudhry also blamed the media for their contempt notices.