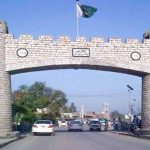 ISLAMABAD: A delegation of International Monetary Fund (IMF) paid a visit of the headquarters of National Electric Power Regulatory Authority (Nepra) on Thursday (today).
According to details, the IMF delegation led by Herald Finger held meeting with NEPRA Chairman Tariq Saddozai and was briefed on the performance of the country's power sector.
The IMF delegation arrived in Pakistan on November 6 to hold talks in two phases with Pakistani officials.
The technical talks were held as a part of the first phase from November 7-9. During the technical talks, data pertaining to performance of various sectors was presented.
From November 12, another round of policy-level talks was initiated which is still in progress and will be concluded by November 20.