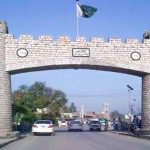 SHEIKHUPURA: Pakistan Muslim League-Nawaz (PML-N) President Nawaz Sharif has said that politicians waiting for 'umpire's finger' would share the fate of empty ballot boxes in upcoming general elections.
Addressing a public rally in Sheikhupura on Sunday, Nawaz Sharif asked his opponents to tell the people as to how many development projects did their governments initiate.
Nawaz claimed that even ten rupees corruption was not proved against him.
He said that the people accorded today a memorable welcome to a disqualified premier.
He complained that the people had elected him to serve as the Prime Minister (PM) of Pakistan for a period of five years but he was ousted before tenure's completion.
The former premier said that in 1990, he was ousted two years into the tenure and in 1997, after a period of three years.
Ruling PML-N has secured Rs. 56 billion worth of historic investment in Pakistan, Nawaz Sharif said.
He further said that the nation would avenge the troubles it was subjected to for the past 70 years, in the upcoming elections.