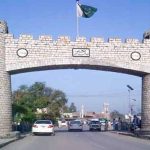 ISLAMABAD: Prime Minister (PM) Shahid Khaqan Abbasi has said the New Islamabad International Airport sits at the crossroads to China Pakistan Economic Corridor (CPEC) and will help becoming a new hub of inter-connectivity.
He was addressing a ceremony after inaugurating the New Islamabad International Airport near the federal capital today [Tuesday].
He said the new facility will also act as a gateway to economic development by employing people and spurring business activities.
The Prime Minister said work is underway to give a best public transport system to this airport like elsewhere in the world, so that passengers face no hurdles or delay in their air travel.
The Prime Minister said in today's world aviation has become a necessity and more and more people are flying.
He said the government has not only started a number of development projects, but also completed the existing ones expeditiously.
He said the extension of Lahore Airport will start this month while the projects of Sialkot, Multan and Faisalabad airports have been completed.
The Prime Minister said aviation is a dynamic field and if we do not adapt ourselves with the latest trends, we will be left behind.
He said we have adopted open sky policy to give more choices to passengers. He said Civil Aviation Authority should learn from world practices and regulate in such a manner which allows aviation industry to grow and give more choices to passengers by promoting competition.
He hoped that the Authority will respond to challenges and will adapt accordingly.
The Prime Minister hoped that new airlines will come into the country and the existing ones will also expand their reach in order to give air passengers more facilities.
Shahid Khaqan Abbasi said the PML-N government has a development driven agenda and it completed a number of projects to facilitate the public. He said our government constructed more than 1700 kms of motorways.
He said highway from Peshawar to Karachi has been completed and Gwadar Port became operational.
He said the government has added more than 10,000 MW of electricity into the national grid while gas connections have expanded by 30 percent.
The Prime Minister said no country has progressed without democracy. He said the continuity of democracy leads to economic development, growth and creation of job opportunities.
He said PML-N government under its visionary leader Nawaz Sharif started such projects which are unprecedented in the history of the country and now the country is on a clear path to development.
The Prime Minister appreciated the hard work and dedication of Advisor to Aviation Sardhar Mehtab Ahmad Khan, former Secretary Aviation Irfan Elahi, and former DG Civil Aviation Authority Air Marshal (retired) Asim Suleman and the staff of CAA.
Later, the Prime Minister distributed appreciation certificates among the officials of aviation division and Civil Aviation Authority.