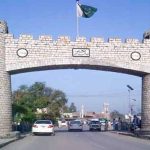 PESHAWAR: Two more shocking videos came to the fore that are showing the infuriated students planning to kill Mashal Khan and his aides at Abdul Wali Khan University in Mardan.
A youth is heard impressing on other fellow zealots, "Kill Mashal's supporters wherever they are. Kill them even if they are holed up in mosque."
Another youth is heard saying the supporters enjoy the favors from Europe and United States.
The angry students raised slogans of 'Allahu Akbar' and made frenzied effort to nail Mashal aides in the hostel of the university.
In another video, the exasperated students are seen barging into the department of mass communication of Abdul Wali Khan University, Mardan, looking for Mashal Khan's aides.
Police intervened while the students were frenetically trying to prize Abdullah from washroom.