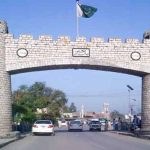 CHRISTCHURCH: New Zealand Prime Minister Jacinda Ardern, who attended Friday prayers at Hagley Park opposite the Al Noor Mosque, broke into tears during the Friday sermon.
Jacinda Ardern, donned in black dress and headscarf, warmly sympathized the Muslim community, saying "New Zealand mourns with you."
Jacinda Ardern also read out a Hadith of Prophet Muhammad (SAWW): "According the the prophet Mohammed… The believers int heir mutual kindness, compassion and sympathy are just like one body. When any part of the body suffers, the whole body feels pain. New Zealand mourns with you, we are one".
The Prime Minister accompanied in the Christchurch prayers by community leaders and other foreign dignitaries. She mixed up with the Muslims to express the solidarity in that painful moments .
Thousands of New Zealanders gathered for nationwide prayers on Friday to mark one week since mass shootings at two mosques in Christchurch killed 50 Muslim worshippers.