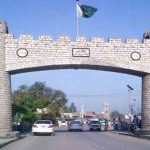 ABBOTTABAD: National Highways Authority (NHA) and district administration on Wednesday jointly started drive against illegal billboards and sign boards around Karakoram Highway (KKH) and pull down them.
From last three decades, illegal sign boards installation was at rise on the both sides of KKH from Havelian to Abbottabad and people involved in the business were earning millions of rupees and were not paying a single penny to the national exchequer.
Keeping in view of the situation, Director NHA sublet sign boards and billboards to a contractor to bring the business into a legal framework.
However, sources in NHA told APP that NHA contractor have demanded Rs 0.6 million from each sign board holder per year as tax ,which was refused by the advertisers.
After futile negotiation between contractor and advertisement agencies, the NHA and district administration Abbottabad started operation against the bill boards and sign boards around KKH from Muslim Abad to Salhad early in the morning and demolished them.
Assistant Commissioner III Abbottabad Abbass Shah led the operation against illegal billboards and also demolished illegal shops those were constructed on the property of the NHA.
A comprehensive drive against illegal billboards from Haripur to Abbottabad would be completed within coming few days, NHA sources revealed.