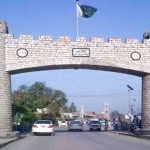 RAWALPINDI: Indian troops resumed heavy shelling on Wednesday, leaving at least nine Pakistani civilians dead and another 15 wounded in Azad Jammu and Kashmir, according to initial reports.
"Indian troops hit a passenger coaster with small and big arms in the town of Lawat, killing nine passengers and injuring eleven others," said Jamil Mir, superintendent of police (SP) in Neelum Valley.
Lawat is located some 90 kilometres northeast of here in the upper belt of valley that straddles the restive Line of Control (LoC).
The coaster was on its way to Muzaffarabad.
"Four bodies and all 11 injured persons have arrived in District Headquarters Hospital Athmuqam, but five bodies are still in the coaster," SP Mir said.
He said shelling in Neelum valley had begun at about 3:00am, but intensified in the morning. Officials from other areas had similar stories.
"Shelling in my area has started at about 8:40 am, and it has been indiscriminate," said Sardar Zeeshan Nisar, assistant commissioner of Nakyal, in the southern Kotli district.
"So far, four injured persons have been brought to a health facility, but I am afraid there may be more casualties, as shelling is ongoing," he said.
Tatta Pani sector of district Kotli was also receiving shells, but so far there was no report of casualties there.
Locals in Battal, Madarpur sectors of district Poonch said their areas were also hit by heavy shelling.
Military sources said that Pakistan army was serving "knee-jerk" response to Indian shelling.
The Inter-Services Public Relations (ISPR) in a statement confirmed that Pakistani and Indian troops had exchanged fire across the LoC on Wednesday.
"Indian resorted to unprovoked firing and shelling on LoC in Shahkot, Jura, Battal, Karela, Bagh , Bagsar, Hotspring sectors today," ISPR said, adding that Indian forces were targeting the civilian population.
An intense exchange of fire is ongoing as Pakistani troops target Indian posts, the military's media wing said.