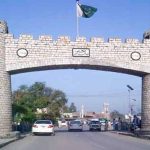 ISLAMABAD: In a tragic turn of events, at least 12 individuals died in a road accident near Islamabad toll plaza here on Monday.
According to details, a passenger van hit toll plaza due to over speed. The van immediately caught fire and passengers were removed after cutting the van.
Motorway police said 17 passengers were in the van which was coming from Sargodha. Nine people died at the moment where 8 other injured were rushed to PIMS hospital. Three people succumbed to their injuries in hospital.
Motorway police further said it seems the driver of the van with registration number LES-7070 slept during the drive.
PIMS hospital administration said the condition of 5 other injured was also critical and the process of identification of deceased is underway.