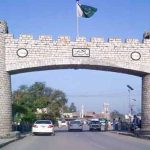 KARACHI: At least nine people including children were injured in a grenade attack in Lyari area of the city on Saturday.
The attack was apparently carried out at a local office of the Pakistan People's Party in Kalakot locality. Rescue workers rushed to the area and moved the injured to the Civil Hospital Karachi.
Police said the attack took place near the PPP office but it was not clear whether the assailants intended to target office of the political party.
They said a search operation have been launched in Lyari to arrest the attackers. Identities of the injured were yet to be known