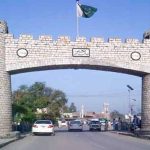 RAWALPINDI: Chaudhry Nisar has said that he wanted to expose the role of former prime minister Nawaz Sharif and his daughter Maryam Nawaz but won't do so because of Begum Kulsoom's critical illness.
Addressing a public gathering in Chakri on Monday, Nisar said he wanted to speak openly about what has been happening in the past few months and the role of Nawaz and Maryam in it.
He added; however, he won't expose the two due to Begum Kulsoom's ill health.
Nisar said he carried the burden of Nawaz for the past 34 years adding that Nawaz and his family were indebted to him.
The former minister recalled that Nawaz was not senior or eligible when the Pakistan Muslim League-Nawaz was formed and added Nawaz Sharif became the party leader as one of the members had to be made the leader.
However, he added that none of those pioneers was part of PML-N now because either Nawaz left them or they left the party.
Nisar said he had never compromised on his principles nor has he ever sold his conscience.
He also said that it was possible he might part ways with Nawaz Sharif.