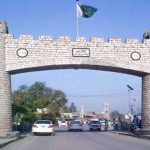 ISLAMABAD: Interior Minister Chaudhry Nisar Ali Khan Wednesday lauded all the security agencies for maintaining peace during Muharram-ul-Harram processions across the country.
In a statement, Interior Minister said that security agencies including Pakistan Army, Rangers, Frontier Constabulary and police of all provinces had provided high standard security to the Muharram-ul-Harram processions.
He thanked the security agencies, besides religious scholars of different school of thoughts for cooperation in ensuring peaceful processions.