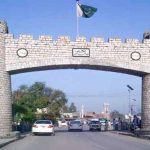 ISLAMABAD: Federal Interior Minister Chaudhry Nisar Ali Khan has strongly condemned the Parachinar blast. The Minister also expressed sorrow and grief over loss of precious lives in the blast.
Meanwhile, PTI Imran Khan, chairman PPP Bilawal Bhutto Zardari, former president Asif Ali Zardari, Governor Khyber Pakktunkhwa Iqbal Zafar Jhagra, PPP leader Rehman Malik, JI chief Sirajul Haq, Akhunzada Chatan of PPP and others also strongly condemned blast in Parachinar. Imran Khan said that intelligence and security for public places must be strengthened.
Meanwhile, the serious injured were being shifted to CMH Peshawar in military helicopters.