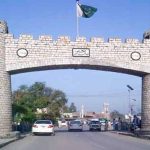 ISLAMABAD: Commandant Frontier Constabulary Cap. Retired Liaqat Ali Khan called on Interior Minister Chaudhry Nisar Ali Khan in Islamabad on Tuesday.
Views were exchanged regarding professional matters of the Frontier Constabulary during the meeting.
The Minister lauded the sacrifices rendered by civil armed forces in ensuring internal and external security of the country and maintaining law and order in Khyber Pakhtunkhwa.
He stressed the need for capacity building of the force by providing modern weaponry, equipment, and training.