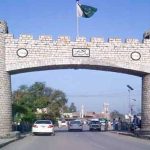 ISLAMABAD: Minister of State for Foreign Affairs Hina Rabbani Khar has ruled out backchannel diplomacy with India, saying that there are no talks of trade between the two countries.
She was responding to a supplementary question of Pakistan PTI's Senator Faisal in the Senate. Since the government had come into the power, there was no backchannel diplomacy going on between Pakistan and India which was happening during the previous government's time, she said.  Hina made it clear that if backchannel diplomacy was the result oriented, it should be done. She said the messages, being received from India, were all conflagratory.
She expressed the possibly of talks if there was any opportunity and India comes to Pakistan's demand. "It is duty of the politicians to do the rights things instead of coming on the way to diplomacy," she maintained.
Balochistan Awami Paty's Senator Danesh Kumar, appreciating the Kartarpur Corridor, said there was Hinglaj Mata temple in Balochistan which was almost five thousand years old adding that Indian Prime Minister Narendra Modi was also its worshiper. He expressed the hope that if this archeological site was promoted for religious tourism between Pakistan and India, it would have good impacts on the social circumstances of the people of this coastal area. He asked the minister for taking any peace-building initiative for this ancient religious temple like the Kartarpur Corridor.
Terming Kartarpur Corridor a good precedence, Hina said this was obviously a positive suggestion and Pakistan had always played front man role in the execution of such peace-building projects and it would keep on doing so. She said absolutely, there was no harm in looking in detail this specific proposal. Pakistan should continue to project such things in the fitness of things, she added.
She said currently, the hostility was coming from the other side of the border was a unique nature due to a unique government over there. Pakistan was asked to normalize its relations with India on the international forums time and again. "To them our response is that they should look at the messages we have received from India," she added.
The minister said banning the BBC documentary in India put a big question mark on its credibility it professed of being the biggest democracy of the world.
She was of the view that he border should remain peaceful as "it is our intention to continue to engage whatever platform is required to be able to do that."