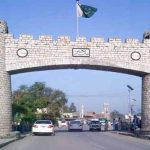 PESHAWAR: Khyber Pakhtunkhwa Information Minister Shaukat Yousafzai says no one will be allowed to disturb law and order situation in tribal districts of the province.
Addressing a function in Peshawar on Sunday morning, he said peace has been restored in tribal area after great sacrifices of security forces and general public.
Shaukat Yousafzai said the nation is standing shoulder to shoulder with Pakistan Army for security of the motherland.
He said rehabilitation of infrastructure in the tribal districts is top priority of the government.
He said in the upcoming budget Sehat Sahulat Programme will be extended to the entire province.