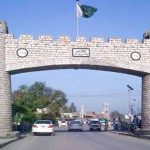 ISLAMABAD: Pakistan Tehreek-e-Insaf (PTI) Chairman Imran Khan chaired the media strategy committee's meeting here Saturday to review 'the government's fresh allegations and attempts to avert public attention from Panama leaks issue.
Vowing to deal with such attempts audaciously, the PTI leaders have decided not to compromise on Prime Minister Nawaz Sharif's accountability with regard to Panama Papers issue.
Asad Umar, Shireen Mazar, Faisal Javed, Imran Ismail, Iftikhar Durrani and other party leaders were present in the meeting.
Earlier today, PTI spokesperson Shireen Mazari said PML-N leader Daniyal Aziz must present evidence to the Interior Minister regarding alleged participation of armed men in November 2 protest.
Daniyal Aziz, in a press conference on Friday, had claimed that Imran Khan approached different banned organisations and requested to provide some 500 armed men.
Censuring the political organisation, the PML-N MNA claimed that PTI's affiliation with militant groups was not new and something that was not known before.
Imran Khan has seized on the Panama Papers scandal as a fresh opportunity to try to unseat Prime Minister Nawaz Sharif. Earlier, the former cricketing hero staged protests in Islamabad for months in 2014 over alleged electoral fraud but failed to topple the prime minister.
Leaked documents from the Mossack Fonseca law firm in Panama in April showed Prime Minister Nawaz Sharif's sons Hassan and Hussain, and daughter Maryam, owned at least three offshore holding companies registered in the British Virgin Islands.
The International Consortium of Investigative Journalists, which studied the papers, said those companies had engaged in at least $25 million in property and acquisition deals.
Nawaz Sharif has claimed his children have done nothing illegal, but opponents accuse the family of using the tax haven to launder stolen money and dodge taxes.