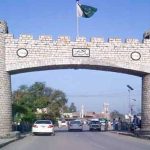 PESHAWAR: Governor Khyber Pakhtunkhwa Shah Farman has directed for provision of quality education at higher education institutes of the province.
Chairing the separate Senate meetings of University of Peshawar and University of Engineering and Technology in Peshawar on Thursday, he said no compromise will be made on transparency in any University of the province.
Shah Farman said the budget of the universities would be approved after financial audit and justification.
The meeting constituted statutes committees for both the universities.