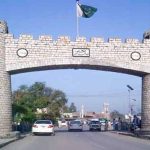 MANDIBAHAUDDIN: Pakistan Peoples Party (PPP) leader Bilawal Bhutto Zardari said on Monday that violence should not result in a delay in the upcoming general elections.
Talking to the media during a visit to Mandi Bahauddin, Punjab, Bilawal condemned the attack on Interior Minister Ahsan Iqbal and called for a thorough investigation.
The PPP leader demanded foolproof security for all candidates during the elections.
"I think Imran Khan has expressed wishes but there is no constitutional way of delaying the elections," he said when commenting on the Pakistan Tehreek-e-Insaf (PTI) chief's reported statement on the possibility of elections being delayed for around a month.
"Those spreading the politics of hate, especially in Punjab, will have an adverse impact on the youth," he said, appealing to politicians to positively engage the youth.
"We have to spread tolerance in the country and only PPP has concentrated on this," he claimed.
Talking about former prime minister Nawaz Sharif, Bilawal said he is making strange statements these days.
"I think the stance of confrontation taken up by Nawaz to hide the Panama scandal is against the interests of the country and democracy," the PPP leader asserted.
Commenting on the possibilities of an electoral alliance with the PTI, Bilawal said there is no chance of it happening before the elections.