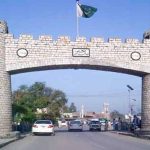 QUETTA: Balochistan Chief Minister Jam Kamal has said that there are no differences between political parties regarding the formation of the provincial cabinet. He said in the first stage, 60% of the cabinet members will take oath.
He said he will bring change in the province in the 20 days and that some important decisions will be made in the next few days.
He said we have created our own financial crisis by allocating Rs88 billion to the public sector development programme while increasing our non-development expenditure. Kamal said the people who did this will account for their mistakes.
We will work to improve the finance department and planning and development department, he vowed.
Kamal refuted claims that political parties had raised objections to the cabinet members. After I took oath as chief minister, the Eid holidays came up, which is why we decided that the cabinet will take oath immediately after Eid, he said.
The Balochistan chief minister said all political parties are united on the decision to form the cabinet, adding that he will keep the opposition parties in mind while assigning ministries. He said things will improve in the next few days.