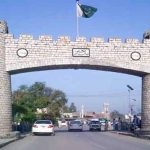 PESHAWAR: Minister for Health and Information Shaukat Yousafzai termed the news of disagreement as baseless and said that such rumors are being spread to destabilize the government.
While talking to media representatives, he rejected reports of indiscipline in cabinet meeting and said that meeting was carried out in a very pleasant environment.
He added that there is no need for CM to form a group as PM has expressed confidence in him.
Informing the media about step taken in cabinet meeting, Shaukat Yousafzai said that the cabinet meeting approved the establishment of separate courts for minor offenders, while amendments to the civil cases law have been postponed for three months.
He further added that government is considering adding two more female cabinet members.