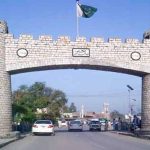 ISLAMABAD: Foreign Office Spokesperson Dr Muhammad Faisal has said no formal communications have so far been held between Islamabad and New Delhi over opening of Kartarpur Corridor, but Pakistan is open on this issue.
Responding to a question during his weekly media briefing in Islamabad on Wednesday, he said no meeting with Indian Foreign Minister Shusma Swaraj has yet been finalized. However, talks in this regard are continuing.
Replying to another question, the Spokesperson said next meeting of Afghanistan-Pakistan Action Plan for Peace and Solidarity (APAPPS) will be held in second week of the next month.
He said it was also discussed with the Afghan side to restore counselor services in Jalalabad as soon as possible.
Regarding Iran's nuclear deal, he said Joint Comprehensive Plan of Action (JCPOA) represents a very good example of settlement of complex issues through dialogue and diplomacy.
He said unilateral withdrawal and arbitrary rescinding of the agreement, which was an outcome of a decade long efforts of diplomats, would undermine the confidence of the international community in dialogue and diplomacy.
He said Pakistan's position in Iranian nuclear deal is in line with the principles of upholding international agreements as per the international law and global relations.