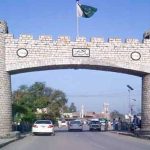 ISLAMABAD: Civil Aviation Authority has clarified that no Israeli aircraft entered Pakistani airspace or landed at any of its airport.
A spokesperson of the civil aviation authority said that the reports in this regard are totally baseless.
Earlier, Federal minister for information and broadcasting Fawad Chaudhry on Saturday dispelled rumors that Israeli premier has landed in Islamabad for a secret visit.
The firebrand minister took to popular micro-blogging website Twitter and responded to a tweet of Pakistan Muslim League Nawaz's (PML-N) leader Ahsan Iqbal demanding immediate clarification from the Imran Khan-led federal govt on the issue.
Fawad Chaudhry responded to Iqbal's tweet saying that the government would neither hold any secret dialogue with India nor Israel.
"The reality is that Imran Khan is not Nawaz Sharif nor his cabinet has fake Aristotles like you. We will neither hold any secret dialogue with Modi nor Israel," the minister replied in Urdu.