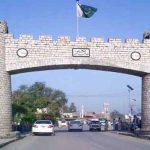 ISLAMABAD/KARACHI: A private airline on Saturday refused to issue boarding pass to Manzoor Pashteen, leader of the Pashtun Tahaffuz Movement (PTM), for a flight from Islamabad to Karachi, where the movement is scheduled to hold a rally on May 13.
Manzoor Pashteen shared on micro blogging site, Twitter, "I along with my three associates have booked seats on Serene Air flight ER-501, which was to depart from the newly-built Islamabad International Airport at 10am and reach Karachi at noon,". When Pashteen and his associates reached the Serene Air check-in counter, those accompanying him were issued boarding passes but Pashteen was denied the same on the grounds that his details were "not in the system" and that he wasn't cleared to board the flight.
Deputy commissioner Karachi on Saturday evening gave go-ahead to PTM for staging rally at Sohrab Goth in Karachi which was earlier scheduled to be held at Bagh-e-Jinnah.
Meanwhile, Dr Riaz Ahmed, a political activist and chairman of department of Applied Chemistry at the University of Karachi (KU), has gone missing from Karachi.
According to family of the professor, Dr Ahmed last contacted his wife last night from the university at around 8pm and has not been in contact since 9pm Friday night, his family said.
Meanwhile, lawyer and activist Jibran Nasir has said that Hashim Khan, who played an instrumental role in highlighting Naqeebullah Mehsud's extrajudicial killing, was picked up last night for supporting PTM.